Miss Belgium 2008 Alizée Poulicek Leaked See Through Lingerie Pictures
What do you do if your reign as the most beautiful girl of a small European country like Belgium is over? You basically wait for the offers to model tiny see-thru lingerie on runways to roll in and that is exactly what former Miss Belgium Alizée Poulicek did. Miss Belgium 2008 Alizée Poulicek was the star on the catwalk at a fashion show for lingerie label La Perla. These photos were a huge hit in her home country, Belgian men wasted no time searching them out while the local media had a field day talking about the photos of Miss Belgium X-rated showing off her goodies.
The stunning blonde was in a bit of trouble because it seems she was way too sexy for many Belgians, but her assets were a true booster to the La Perla brand and the fashion show. Don't pay any attention to that naked dude trying to steal Alizee Poulicek's thunder at the fashion show. I am guessing she was so hot with her fully exposed tits that the crazy dude strip his clothes off and tried to jump on the runway to bang Miss Belgium 2008 right then and there.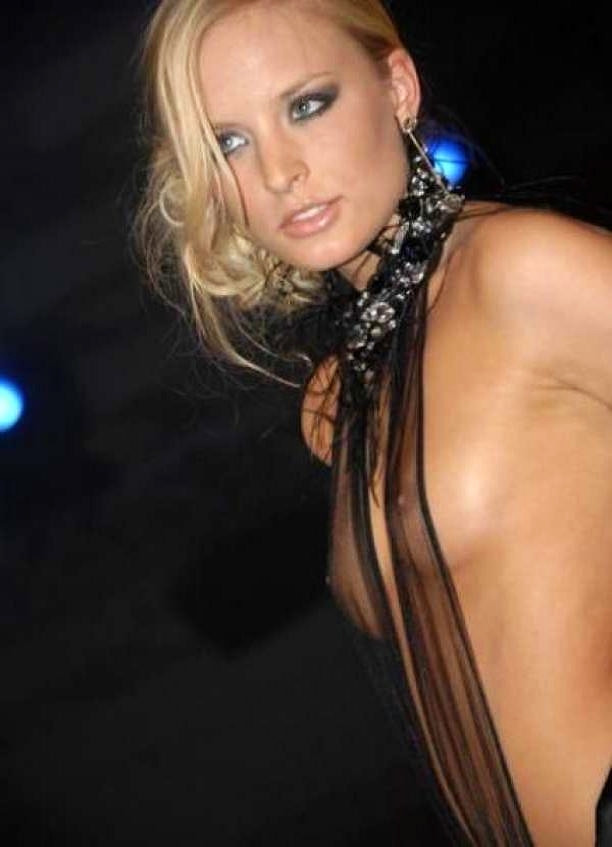 Alizée Poulicek (born June 26, 1987 in Uccle, Belgium) is a beauty queen who won the title of Miss Belgium 2008, and represented her country in Miss Universe 2008 in Nha Trang, Vietnam. Unfortunately, she unplaced at the pageant. She also represented Belgium in Miss World 2008 in Johannesburg, South Africa. Her ambition is to become a television presenter and she has completed many contracts in TV already.